Small Business Development Center
We provide tools and guidance to help small businesses achieve success
As part of a statewide network of resource and technical service providers, the Wolf Point Small Business Development Center (SBDC) provides confidential business counseling for small business owners and entrepreneurs. Services are provided at no charge and are designed to assist those looking to develop and enhance the financial, managerial and technical skills needed to compete and succeed in today's complex business environment.
Seven counties in Northeast Montana are serviced by the Wolf Point SBDC office, they include: Daniels, Garfield, McCone, Richland, Roosevelt, Sheridan and Valley. For assistance please contact Shandy Hanks Moran at (406) 653-2590 ext. 203 or sbdc@gndc.org
The Wolf Point SBDC is funded by the Small Business Administration, Montana Department of Commerce, and Great Northern Development Corporation.
Why isn't my business making money?
Start Up, expansion & profitability
If I build it, will they come?
Business & Strategic Planning
Is my business idea feasible?
Where are the problem areas? 
Businesss Management & Development
Loan Packaging & Financial Projection Assistance
Market Research & Feasibility
Meet with us about business consulting
Let our experts help you take the next step
2021 Success Story - Farris Farm and Auto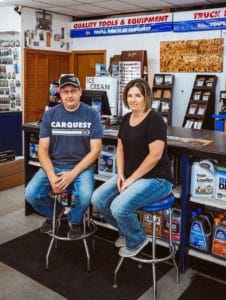 After almost 25 years of being an employee at Carquest, Mike Farris went from spinning wrenches in the shop and helping customers at the front desk to purchasing the business with his wife, Steph. Farris Farm and Auto is a family-owned business passionate about delivering excellence in everything they do. 
"We serve our communities with a high level of integrity and passion in what we do. We deliver the right products to the right place at the right time."
The couple was exploring the possibility of purchasing the business when Steph attended her first Quickbooks training. After the class, a lending partner suggested that she should reach out to Shandy at the Wolf Point SBDC for assistance in navigating the purchasing process. Shandy Moran, Wolf Point SBDC Regional Director, assisted Mike and Steph with business planning, financial projections, and cash flow analysis. Ultimately the plan they developed helped them secure the financial assistance they would need to make the dream a reality. The couple secured a commercial bank loan and additional financing through Great Northern Development Corporation, The Wolf Point SBDC's host organization. 
Owning a business has challenged both Mike and Steph with role changes. Steph stepped in as the office manager and bookkeeper for Farris Farm and Auto while still holding her full-time job away from the business. Mike shifted from being the full-time shop mechanic to the lead parts technician. He spends many late nights making sure clients receive superior service in the machine shop.
Farris Farm and Auto supports the local ag community and finds themselves giving back through fair donations and event sponsorships. Looking back at his history in the store, Mike sees a lot that has changed in twenty-five years. However, the need for parts and quality customer service remains a constant for Mike and Steph.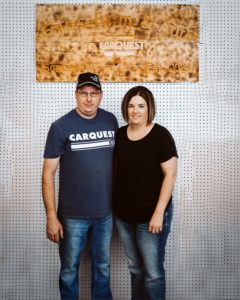 November - Moonlight Laserworks LLC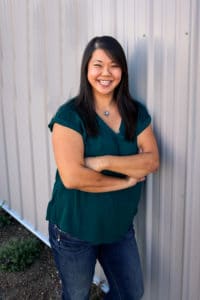 Sarah was a chemist who found herself in Mexico setting up a cement lab for her employer, which is when she met her husband. After moving to Eastern Montana Sarah found herself needing a challenge. "Being a stay-at-home mom was fulfilling but I felt the pull to do more but it had to be something I was passionate about."
When going to a trade show in Las Vegas, she encountered a vendor who specialized in laser engraving. Months later the idea was still brewing in her day-to-day thoughts of owning a custom engraving shop. "My husband finally encouraged me to seriously pursue this dream and that is exactly what I did."
After deciding to start her business Sarah reached out to the SBDC office in Wolf Point for market research and feasibility, business planning, loan packaging, and financial projection assistance. "Liveplan was something that made the actual business planning more manageable for me to see. It was more step by step and helped me to create realistic goals and projections to take to the bank. I remember that Shandy gave me some really practical advice by saying that most people over-inflate their projections to look good, but the banks don't like seeing you think you are going to make a killing in your first year. So when Independence Bank was really impressed with my realistic projections, it was such a sense of accomplishment. And I am so thankful to SBDC and Shandy for making it possible".
With the help of GNDC and the SBDC, Sarah was able to apply and receive gap financing to secure her first laser machine for engraving along with other start-up costs. In her first year, she managed to exceed the one-year projections that she had made in Liveplan by her first 6 months in operation. "GNDC and specifically the SBDC allows me to continue to grow and network with other businesses in our area. It helps to share my business and what I have to offer."
Not only does Sarah wear the owner hat of her business but she also is the creator, designer, and technical support for the lasers. "Being able to create a specific type of joy that not only a customer has when seeing the final product, but knowing that that joy is then shared with someone else when they give the gift just makes every day in the office that much better, knowing that I created that."
Moonlight Laserworks creates an array of promotional materials for businesses and clients alike but also does custom engraving. "I enjoy working on awards and prizes, industrial parts, business swag and presents that you can give your family and friends. I truly get to do it all."
Sarah has big goals for the years to come and is reevaluating her business and her projections constantly. "I want to be able to give back more to our communities and to continue to offer a unique service in our rural part of the state."
Visit moonlightlaserworks.com or on Facebook to view Sarah's beautiful engraving creations and promotional products.
October - Sugg Primary Care Clinic
When you walk into Sugg Primary Care Clinic in Glasgow, you will feel right at home with a warm welcome and a comfortable atmosphere. Dawn Sugg, FNP-C was a nurse for 18 years and always felt a calling to do more and help her patients find the root cause of their problems. When an opportunity presented itself for her and her family to move back to Glasgow, she decided to take a leap of faith and open her own private practice in Eastern Montana. "I really wanted to get back to a small-town feel of medicine and meet patients where they were at in their life" At Sugg Primary Care Clinic patients will experience a family-friendly approach to care. Dawn Sugg, FNP-C wants medicine to be a listening ear to her patients. She works in an integrative care model and creates a sense of community. She said that she wants her patients to feel that they can work together to find the root cause of their illness or discomfort and have that open and honest interaction so that she can heal her patients entirely both mentally and physically.
Dawn sought out the Small Business Development Center (SBDC) to help with the business planning aspect of her new clinic. "I am not a business-minded person, I needed help with the business planning, and that is exactly what you offered". Through our business planning software Liveplan, the SBDC was able to help her build a business plan that will be the roadmap for Sugg Primary Care to expand and thrive.
Sugg Primary Care Clinic saw a need in the community and surrounding area of Glasgow to alleviate the urgent care overload and to work with the whole patient instead of just the problem. This allows for patient care to be much more realistic and attainable. Health care that is simplified, integrative, and for the patient. Make sure to check out the list of care that is offered at Sugg Clinic and join us in congratulating them in their grand opening this past August! If you have any questions please call  (406) 228-8013 or email  suggprimarycare@gmail.com
Annual Physicals

Medicare Wellness Exam

Well Child exams (infants through teenagers)

DOT Exams

Sports/school physicals

Women & Men's Hormone Health

Minor Office procedures (Wart removal, laceration repair, lesion biopsy, etc)

IV therapy (Vitamin, mineral, amino acids, etc)

Laboratory services: Urine/UTI, Pregnancy tests, STI testing, strep, influenza, COVID testing, wellness labs, etc.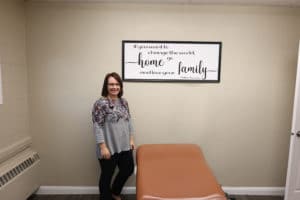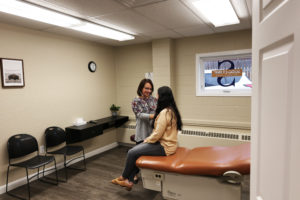 Financing
Whether you are starting a brand new business and need startup assistance or already have an established business and just need some additional funds to expand, GNDC may be able to provide you with the confidential assistance and gap financing that you need.
For additional information on how GNDC can assist you with your business endeavors contact: Shandy Hanks at sbdc@gndc.org.