Small Business Development Center
We provide tools and guidance to help small businesses achieve success
As part of a statewide network of resource and technical service providers, the Wolf Point Small Business Development Center (SBDC) provides confidential business counseling for small business owners and entrepreneurs. Services are provided at no charge and are designed to assist those looking to develop and enhance the financial, managerial and technical skills needed to compete and succeed in today's complex business environment.
Seven counties in Northeast Montana are serviced by the Wolf Point SBDC office, they include: Daniels, Garfield, McCone, Richland, Roosevelt, Sheridan and Valley. For assistance please contact Shandy Hanks Moran at (406) 653-2590 ext. 203 or sbdc@gndc.org
The Wolf Point SBDC is funded by the Small Business Administration, Montana Department of Commerce, and Great Northern Development Corporation.
Why isn't my business making money?
Start Up, expansion & profitability
If I build it, will they come?
Business & Strategic Planning
Is my business idea feasible?
Where are the problem areas? 
Businesss Management & Development
Loan Packaging & Financial Projection Assistance
Market Research & Feasibility
Meet with us about business consulting
Let our experts help you take the next step
October - Sugg Primary Care Clinic
When you walk into Sugg Primary Care Clinic in Glasgow, you will feel right at home with a warm welcome and a comfortable atmosphere. Dawn Sugg, FNP-C was a nurse for 18 years and always felt a calling to do more and help her patients find the root cause of their problems. When an opportunity presented itself for her and her family to move back to Glasgow, she decided to take a leap of faith and open her own private practice in Eastern Montana. "I really wanted to get back to a small-town feel of medicine and meet patients where they were at in their life" At Sugg Primary Care Clinic patients will experience a family-friendly approach to care. Dawn Sugg, FNP-C wants medicine to be a listening ear to her patients. She works in an integrative care model and creates a sense of community. She said that she wants her patients to feel that they can work together to find the root cause of their illness or discomfort and have that open and honest interaction so that she can heal her patients entirely both mentally and physically.
Dawn sought out the Small Business Development Center (SBDC) to help with the business planning aspect of her new clinic. "I am not a business-minded person, I needed help with the business planning, and that is exactly what you offered". Through our business planning software Liveplan, the SBDC was able to help her build a business plan that will be the roadmap for Sugg Primary Care to expand and thrive.
Sugg Primary Care Clinic saw a need in the community and surrounding area of Glasgow to alleviate the urgent care overload and to work with the whole patient instead of just the problem. This allows for patient care to be much more realistic and attainable. Health care that is simplified, integrative, and for the patient. Make sure to check out the list of care that is offered at Sugg Clinic and join us in congratulating them in their grand opening this past August! If you have any questions please call  (406) 228-8013 or email  suggprimarycare@gmail.com
Annual Physicals

Medicare Wellness Exam

Well Child exams (infants through teenagers)

DOT Exams

Sports/school physicals

Women & Men's Hormone Health

Minor Office procedures (Wart removal, laceration repair, lesion biopsy, etc)

IV therapy (Vitamin, mineral, amino acids, etc)

Laboratory services: Urine/UTI, Pregnancy tests, STI testing, strep, influenza, COVID testing, wellness labs, etc.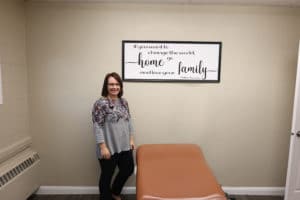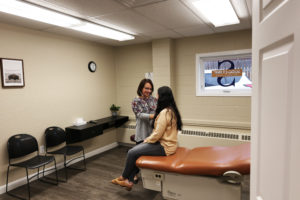 November - Moonlight Laserworks LLC
Stay tuned for next month's feature. 
Financing
Whether you are starting a brand new business and need startup assistance or already have an established business and just need some additional funds to expand, GNDC may be able to provide you with the confidential assistance and gap financing that you need.
For additional information on how GNDC can assist you with your business endeavors contact: Shandy Hanks at sbdc@gndc.org.