Canty Boots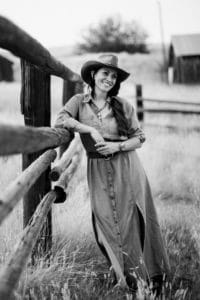 Nikki Edmundson, creator and owner of Canty Boots®, will be featured as a keynote speaker. Nikki, of disassembles and redesigns standard cowboy boots into short one-of-a-kind ankle boots with pizazz. Nikki, together with her husband, raise their four children on a cattle ranch, continuing to access and disrupt the massive western fashion industry all while living in a town without a stoplight. 
Canty Boots® is coming up on 12 years building a brand, 3 years with a full retail location and over 12 retailers nationwide. Canty Boots® have been seen on the feet of reality tv stars, athletes, models and singers maintaining a signature look while also evolving and bringing customers back for more. Join us as Nikki shares her trial and errors, getting comfortable with failure, building a brand through storytelling, and business during and after Covid.
Rise and Restore - Expert Tabling List
This ever-growing list of state, local, and experts will be attending the conference. These individuals will be available all day to answer any specific technical assistance questions, including available grant opportunities, online presence management, or accounting needs.
Export Montana Montana Department Of Commerce 
Small Business Association – Brent Donnelly, District Director, Montana District Office of Field Operations
Quickbooks Specialist – Wendy Weissman, CPA
Voices of Montana Tourism – Dax Schieffer
Girl Geek Communication & Grow With Google –  Miranda Gilbert, Owner
Human Resources – Jackie Swiesz, Associated Employers
Leadership Montana – Shayna Blaser
Montana Women's Business Center – Shayna Blaser, Program Director
Great Northern Development Cooperation – Tori Matejovsky, Executive Director
Food & Ag Development Center – Hailey Vine, FADC Director
Canty Boots – Nikki Edmundson, Owner
Small Business Development Center – Tracy Baker, Miles City Regional SBDC Center Director 
Sidney Chamber of Commerce – Kali Godfrey
Big Sky Economic Development Trust Fund and ARPA Workforce Training Grant Program – Annmarie Robinson
USDA – Rural Development – Kasey Watson

Richland Economic Development Corp

– Leslie Messer,

Executive Director
Rise & Restore Small Business Summit and Minnow Tank is brought to you by: